By OH ING YEEN
ingyeen@thestar.com.my
Photos by LOW LAY PHON
TH Properties Malaysia
BOASTING a tranquil setting, Bandar Enstek appeals to those who want quick access to the KL International Airport (KLIA) in Sepang.
The project is approximately 15 minutes from the airport and less than half-an-hour from Putrajaya.
Located in Negri Sembilan, it is also accessible by the Elite, PLUS and MEX highways.
Bandar Enstek, wholly-owned by TH Properties Sdn Bhd, is projected to have a gross development value of RM9.2bil upon completion in 2025.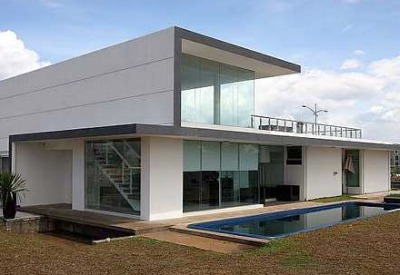 TH Properties is owned by Lembaga Tabung Haji.
The total land area is 2,071.58ha and it is freehold.
TH Properties sales and marketing head Mohd Iskandar Omar said Bandar Enstek's selling point was its proximity to the airport.
"Although it is situated outside the Klang Valley, it is not too far from Kuala Lumpur.
"It is a quiet and safe environment," he said to members of the press during a site visit.
The current development phase — timur@enstek was launched in December 2006.
An upcoming project in timur@enstek known as Rembulan, offers 124 units of semi-detached houses.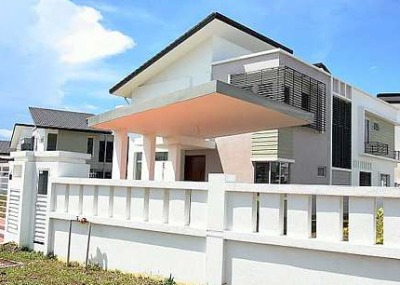 The homes are spread over 12.54ha of freehold land.
This low-density project is scheduled to be launched this month and expected to be completed by November 2013.
Priced between RM622,400 and RM1.069mil, the four designs which are available range from built-up areas of 2,555sq ft to 3,117sq ft.
The houses are also equipped with security alarm systems.
The intermediate units have five bedrooms and five bathrooms while corner units have six bedrooms and six bathrooms.
"It is spacious, 28% to 35% bigger than houses in Kuala Lumpur and Petaling Jaya.
"It is suitable for large families. The designs allow for efficient air flow and natural lighting," Mohd Iskandar said.
He said the target markets were the middle- to high-income groups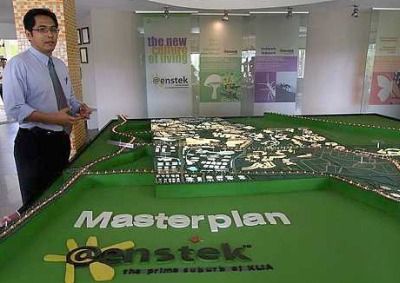 "Some may buy it as a place for them to retire to," he added.
All purchasers will be entitled to free legal fees and disbursements for the Sales and Purchase Agreement, and stamp duty for the Memorandum of Transfer will be borne by the developer.
To serve the daily needs of the community, village@enstek, a neighbourhood commercial development, offers F&B outlets, a mini market, laundry services, clinics and even a spa.
Substantial acreage in Bandar Enstek has been devoted to an area called Bandar Enstek Educational Complex, which will include several institutions of education from secondary to tertiary level.
As for industrial development, techpark@enstek covers an area of 212.06ha, touted to have the largest cluster of local and international biotechnology companies in Malaysia.
It is fast becoming a hub that caters to the needs of investors such as Bomba Malaysia, Jakim, Coca-Cola Bottlers Malaysia Sdn Bhd and Felda. TH Properties is also constructing an 18-hole golf course and clubhouse, and other community-centric facilities.